RMGSwitch-Std
Price:

$34.50 (excluding tax)

SKU:

Vendor:

Brand:

Condition:

Weight:

Rating:

Availability:

Shipping:

Current Stock:

Gift Wrapping:
---
---
Product Description
Features and Specifications
RMGSwitch-STD connections diagram
The diagram shows Deans Ultra connectors used for battery and winch connection.
These are optional extra which can be specified when ordering.
All connections must be protected against exposure to water.
Do not allow connectors to lay in the bilge of the hull.
Water exposure (salt or fresh) to connectors is the most common mode of failure in the boats electrics.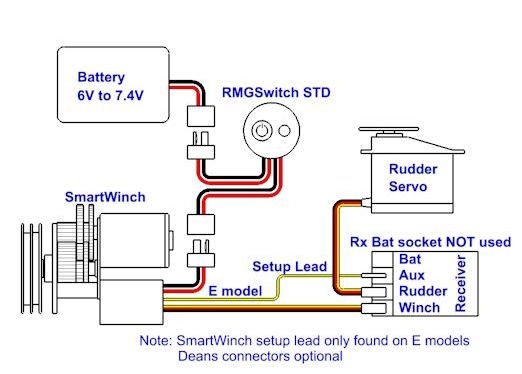 Switch Operation, Voltage Display and LED functions
To turn the system on requires only a short momentary button press.

While the system is on the LED will blink once per second.

To turn the system off, press and hold the button.

The LED will light up continuously for 2 seconds.

When the LED goes off release the button before it comes back on at 3 seconds to turn the system off.

While the system is on, the RMGSwitch continuously reads the battery voltage. The lowest voltage read since the last time voltage was displayed is the voltage to be displayed next. This means that the performance of the battery can be monitored over time. It will show the size of voltage drops due to load on the battery by the SmartWinch.

To display the battery voltage, press the button for less than one second. The LED will then blink the number of Volts. There will then be a one second pause before the number of tenths of a Volt will be blinked. When displaying voltage the blink rate is 3 blinks per second.
---
Find Similar Products by Category
---